It's interesting how as we grow up, we are taught so many things but rarely do we learn something as fundamental as taking care of our well-being.
It never really occurred to me that you had to recharge, I was always busy doing things and kept going as there was always enough to do.
Sure, I would sit down and watch TV and have dinner with friends. But I never stopped and wondered: does this activity give me energy or cost me energy? I was either drained or I wasn't.
There were so many things that were seemingly logical. Of course, you would see friends every weekend, or go to so and so's birthday. I was saying yes to things without checking to see if it was actually something that felt GOOD to me.
I started to realize these things were choices. Going on automatic pilot was a subconscious choice but it was still a choice.
Waking up to all the choices you're making without really making them is an opportunity to recalibrate and get back in the seat and take the steering wheel of your life.
What do you want to do today or this weekend?
I learned to start saying "I'm not going there because I need something else more than that"—I need to recharge or to be without people around me.
Where are you living on autopilot? What are you saying yes to without wondering whether you actually want to go there or do that thing? Or whether your body has the energy to add one more thing.
Living on autopilot and pushing through often go hand in hand. (And as you probably know, that usually doesn't end well…)
This is your invitation to become more conscious of the way you choose to spend your time and energy.
Give yourself permission to pause and ask what you NEED. Not what you feel is expected of you or what you believe you should do—but what feels right and supportive for you and your body.
You're no robot. You can't keep pretending that you're not annoyed or frustrated (or exhausted) because you feel you 'should' do this while you long to do that other thing.
You might seem to get away with ignoring your needs but the problem is that it will start to fester. Best to be honest and at least get clear of where you're not supporting yourself or your body. Then if you continue to ignore your needs, at least you'll know you'll have to pay the price someday.
If you want to feel more at home with yourself and free to make the choices that feel amazing to say yes to, then my SWEET POWERTM Transformative Mentoring Program is perfect for you.
If you're interested in private mentoring with me, you're invited to a complimentary Clarity Session to discover the best next steps for your personal and professional growth.
Click here to apply for a Clarity Session
It's time to make conscious choices on what you spend your time and energy on, and stop living on automatic pilot so you can discover the life you could be enjoying!
I look forward to speaking with you!
With love,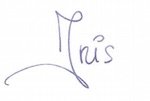 PS My rates for private mentoring go up per October 15th, 2023. If you've been on the fence about working with me privately, then this is a great time to take that step.
Apply for a complimentary Clarity Session here
PPS This is what Monica Melis, Director Infrastructure Management said:
"Iris facilitated this process in a comfortable way that allowed us to quickly get to the core of the shifts that were needed. Getting stuck on a project and wondering if you're still a fit for the organization you work for, were the start of our journey together.
I deliberately say' together' because the warmth with which Iris lets you look at these aspects feels like a joint journey. The sessions have brought me clarity in setting boundaries, have focused my values and highlighted what I find important.
Other results are:
I dare to say no and trust that things will work out when I let go of something that no longer serves me.
I can go back to what I want and feel and what makes me happy—and act accordingly.
I'm more self-assured in discussions and find it easier to stay true to myself and my feelings, which results in beautiful conversations. I address much more things concrete and in a different tone of voice.
I've come to realize that some things could no longer continue the way they were—leading to different choices in both my personal and professional life.
I'm more comfortable in my own skin and feel more at peace. I'm more balanced.
A lot has been put in motion by these sessions, both inside me as well as tangible outcomes. An enrichment in multiple areas. It felt very freeing to discuss certain things.
Iris, thank you for your guidance, the enjoyable sessions, your vulnerability and the warm personality you are."