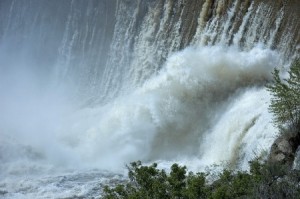 You may have heard these words before. Last week I wrote it down to remind myself. Things were not going as planned or even hoped. Clients canceling, website troubles (the website was down for 24 hours before the new one was up and running), I had a bad cold (or vibrational flu) and just an overall lack of flow. I knew this was partly due to my very busy schedule and not enough downtime to relax and rejuvenate, but mostly just a reboot of the system before a new shift could materialize.
I have to add that even knowing this doesn't always make it easy to bear or to keep going with a smile. I too have days in which it is much harder to keep the faith and trust that it will be alright and that the Universe is here to assist me as well. What really helps me through those days, apart from a good cry, is managing my energy. If there is one thing I have learned over the years it is that managing my energy and staying centered and grounded is one of the most important things to stay in the flow and to stay afloat. This is what I teach all my clients as well. Take some time every morning and every evening to fully ground yourself. That will make a huge difference in so many aspects. It will help your energy level, your sense of calm and your ability to focus. Just to name a few.
So my invitation to you is to do that daily. Give yourself the gift of taking that time each day to support yourself. Not just because it will make you feel better but also because you are your business. I'll say that again.
YOU are your business.
The better you take care of yourself, the more you have to give and the more flow you will experience in your business as well.
I know that many of you are experiencing ups and downs at the moment so it is my pleasure to gift you with a powerful training call that provides you with the tools and techniques to ground yourself and manage your energy on a daily basis. So you can stay balanced and stay afloat.
Simply click here to register for this free audio-training
This is the official first training call from my popular online program 'High-Energy Success for Sensitive Entrepreneurs'. The powerful energy management system that helps you serve more people and make more money without draining yourself.
I hope you will enjoy the recording and of course I will keep you posted on the upcoming breakthrough 😉

Get access to the free training call here