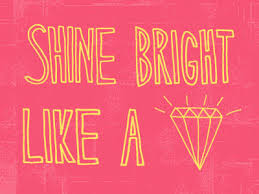 I'm just loving the flow today. I got so much done, none of what I planned, but really huge strides forward! Connecting with a dear friend and colleague we were bouncing ideas of each other as we often do. Sharing and brainstorming as we go (and lots of laughter). And suddenly a lot of things clicked together. For me as well as for her. It suddenly dawned on me that I was being so 'formal' in a lot of things. I was doing the things the way I thought I needed to do them. Or just following the main route, not even taking much time to wonder whether it was my route. Well, this is not totally true. Because in many ways I really created my own way of doing things, but there are just as many instances where I went for plain old obvious. Such as calling my Ezine 'Ezine'. That was a step up from 'newsletter', and it worked for as long as it did. But in this epiphany I suddenly thought "why am I even calling it that?". I already have 'Energetic Updates' written at the top of each Ezine, so why not call it that?
That is so much more me!
So I opened my Ezine and noticed the boring logo at the top. And I thought to myself "Oh my God, that's gotta go!". And it made me SO happy to make these changes. And as you may know, when things are in the flow, they are all in the flow. So I asked my assistant to place the photo as a header and it was already done 15 minutes later!
These things give me such an energy boost! I can just dance with joy! (except I can't because my toe is still sprained). But I am doing a happy dance none the less. Can you feel the energy?
This is just the beginning of what can happen when you allow your Self to shine through more fully. So let me ask you: "where can you let more of your Self shine through?"
I would suggest you go with the first thing that comes to mind. Then ask yourself the following questions:
"Does this reflect who I really am?"
If it does, great! Now see where else you can let your Self shine through!
If it doesn't: simply ask yourself
"How can I let this (product/service/picture etc) show more of the authentic me?"
So for me, I stopped for a heartbeat, wondering if I should really use a picture that shows so many wrinkles. Just being honest here. I looked for other pictures but had to conclude that this picture contains the energy I want to send out: joyful, happy, nice outfit, some flowers, colourful. And it made me realize that this picture shows me as I am today. I'm not 18 anymore, all wrinkle-free and inexperienced. And that's not only ok, that's what makes me a valuable resource. My experience, my mistakes, my successes. They all build up to who I am today! And I am so grateful that I can let more of me shine through.
Are you ready to let more of your self shine through, so you can fully do what you came here to do?
Then I invite you to apply for a free Clarity Session with me! In this session we will get clear at what's preventing you from fully stepping into your power, what the next step is to help you shine and how I can support you with that with one of my programs.