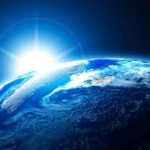 This is a message I received from the Carriers of the Light recently.
"We need to tell you something important. The earth is on the verge of a breakthrough. The collective wisdom is about to open up to a major new insight. On a conscious level the vibration will reach the frequency in which people are more fully able to accept the concept of being conceived from spirit. Many will not know this immediately but the insights and especially the vibration is seeping through. It will influence the whole and humankind.
Allowing this into the collective conscious is a great step which is thanks to all the healers and lightworkers that have worked so hard for many years to increase their own vibration and that of the environment around them. Whether it was working through personal development or through an active influence on the development of others or human nature.
You have each played an important role and you are asked to step up once again. You will be called forward to take up your place in time and space. The role that is meant for you and that you took upon you eons ago is now ready for you. You have been primed for this moment. You have all you need and you know all you could ever wish for in regards to being suited for this part. You are ready. Now is the time. Open your arms wide and accept the initiation that is here for you. You may not know where this will bring you and which events this will set in motion but you are here now for a reason.
This role is meant for you and will bring you what you long for, it is the culmination of all your suffering, your triumphs, your growing pains and your bold steps. Whether you believe that you are ready or not, know that you are. Step forward now into the unknown and let us carry you on our wings. The universe is supporting you in fulfilling this task which will bring you immense wisdom, gratification and a sense of belonging. You are ready. This is the moment. The moment is now.
We hold you in love and honour you for the steps you take here on Planet Earth."
If this resonates you're invited to the next free workshop with the Carriers of Light.