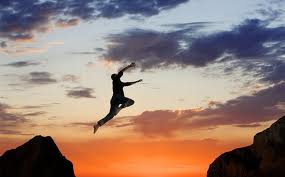 As we go through major shift and changes it can happen that we grow so fast that we make a growth spurt or leap that leaves us in unknown territory. When that happens you may feel as if you need a new manual for yourself. It's as if you can't find the right button to push to make something happen. Things don't seem to work the way they used to.
It's like you always knew how to unbutton your blouse and suddenly the buttons are in a different place. You're scrambling and it confuses you because you feel kind of lost. Like, "what just happened? So what am I supposed to do here? I don't know where to go from here, I thought I knew what I was doing and now it feels like it's not there anymore. So what do I do now?"
And that can be very unnerving. Especially because you probably worked hard to create that leap and was hoping to find something better at the other end, and you may feel shortchanged when that's not how it feels. I know I have. And I've heard similar stories from many of my clients. We all go through this at one point or another.
So why is this happening?
It is because you have shifted your vibration hugely and that is why you can't find the buttons and you need to realign the energy so you are back up to speed. And that's exactly what we will be doing at Healing Heaven.
Part of it is that your physical body still needs to catch up with your energetic body. And that is where the power of integration comes in. It is so necessary to allow yourself the time to fully integrate changes. And I know that it can often seem a waste of time. Because nothing seems to happen. But as you continue to increase your vibration (whether you are aware of it or not) you need time to integrate and anchor these changes in your physical and emotional body. It needs to adjust to this new vibration. If you don't allow yourself the time to integrate you will always feel like you are behind, not knowing which button to push.
In essence this is why I created Healing Heaven. This event will support you with powerful energy that comes through during my channelings. And the activations that we will do help create a warm energetic bath that supports you in recharging your system and lets it adjust to the changes. I will also take you through a special alignment exercise to make sure you are in tune. And it will help you truly integrate the changes you are going through so you make room for new things to enter your life.
When this resonates I warmly invite you to join me at Healing Heaven, Two Spa Days for your Soul!