Recognize any of this?
You:
are often drained at the end of the week and need most of the weekend to recharge

often have To Do lists running around in your head

are always struggling with a full calendar and too many meetings

are tired of doing things on willpower instead of energy

often put your career or business and other people's needs first

have a high sense of responsibility and want to do things 'right'

would love to have more time & energy to enjoy your personal life

know deep down that you can't go on like this because your body will start to protest at some point
I know exactly what that is like, because this was once me!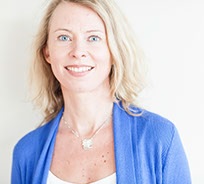 I am Iris van Ooyen and these are some of the things that I have struggled with for years. I had a demanding job in marketing and I was juggling a lot of things at the same time. I was pretty perfectionistic and really felt responsible for doing a good job. I did not only want to excel at my job but also take care of the household, spend time with family and friends and of course have quality time with my boyfriend.
Add quite some travel time to work to this equation, a father-in-law who passed away and you have a perfect recipe for disaster. I was burned out at the age of 25…
It took me by surprise because the adrenaline kept me going until the moment of collapse. Luckily that's not the end of my story ;-)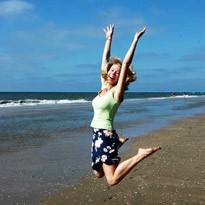 When I look back it was a pivotal moment in my life. It learned me the hard way what didn't work and what I had to do different to stay healthy and still strive for a successful career and meaningful personal life. I have now been running my own business for over 14 years and I still use the tools I developed then.
Since then I have already taught these practical tools and powerful insights to hundreds of people.
Now I am excited to offer the new and up-leveled version of High-Energy Success 2.0!
This is the system I use (and teach) every day so I can successfully serve my private and corporate clients and still have plenty of energy left to enjoy my personal life.
Do you long to work more efficient & successfull with time and energy left to enjoy your personal life?
Then this life-changing program is for you!
Join me for 6 weeks of powerful tools & insights and I'll teach you the energy management system you must have to excel in your career or business while feeling your absolute BEST.
These tools are a must-have for anyone, whether you just started your career or business or are already more experienced. If you desire less exhaustion, more energy and more quality time for yourself, join me now!
And don't just take it from me, this is what it has done for participants:
I have more energy to be where my brilliance is because of the tools that Iris gave me.
"Iris' program made me realize that there was nothing wrong with me. I am just a highly sensitive person. I am now much better at grounding, staying centered and recognizing when my boundaries are being crossed. The changes I see in my life are a deeper awareness of why I get tired and having tools to change this. This has changed my entire day and life. I always knew meditation and grounding was healthy and good for me. Yet, Iris helped me to see it in terms of energy. This is a MUCH missed key YOU do not get from other coaching programs. This key is so important because I realize now why I have been resisting that new level in my business. I was absolutely not wanting to put more work on myself that would drain me. I was in self-preservation mode. By doing Iris' three step process I feel I can conquer anything.

I love the way Iris presented this program. She took us step by step and the way she does it is easy to hear and implement. For the first time in my life I understand some very deep parts of me! Iris is very giving with pure loving energy. You know she is taking care of herself so all you need to do is show up and receive.

I would recommend this program to any entrepreneur or person that finds it difficult to be in the world and with other people without feeling drained afterwards. It helps you to live your purpose without being afraid you will be consumed by others needs and expectations."
Shelly Byrne
, Covington, KY, USA
, www.climtreeswithearthjoy.com
I am now less often overwhelmed by emotions from others around me & I have more energy.

"I am very satisfied with the program. I am now less often overwhelmed by emotions and stimuli around me, and I am more serious about taking care of myself. I am more aware of the state that I am in and when others 'enter my space'. I now recognize when I need to take action. Certain things cost me less energy now because I am better at protecting my boundaries.

Through this program I have also learned to feel whether an emotion is mine or someone else's by doing the easy and very useful exercises. I really loved those! The exchange between the participants works powerful as well. You learn a lot from the questions others ask, that's very valuable. The visualizations that Iris guided us through were very beautiful and powerful. I can highly recommend this program!"
Saskia Slotboom
, Amsterdam, The Netherlands
, www.saskiaslotboom.nl
Whether you are an entrepreneur or want to grow your career, you want to have access to this game-changing system so you can focus on growing your career without energy-drain or exhaustion.
This system has literally saved my life. It is what enables me – and hundreds of others I've helped – to joyfully support a lot of people and still have plenty of energy left to enjoy my personal life. (aren't you tired of needing the weekend to catch your breath?)
I am now sharing this in my up-leveled 6 week online program:

This is what you will receive in your program:
During this 6 week program I will take you through the 3 foundational principles to managing your energy, yourself and your boundaries.
Foundational Principle 1: Manage Your Energy
In this key piece you will master simple and very effective ways to manage your energy on a daily basis, so you can successfully run your business or get the most out of your job.
You will:
Feel focused and centered and experience a sense of calm
Improve your ability to be in the moment and it will be easier to get in touch with your feelings and intuition
Learn a powerful tool that helps increase your focus and concentration
Learn to recognize the tell-tale signs that you are not managing your energy (well enough) and why that is hurting you and your business or career
Manage your energy so you can do your job with a smile and still have energy left to enjoy your personal life
Easily uplevel your self-care
Listen to your body and what it needs (so you won't get sick or overwhelmed)
Foundational Principle 2: Manage Yourself
If you are not actively managing yourself, your life becomes chaotic and out of control. This principle will help you take back control over yourself and your life.
You will learn:
The key indications that you need to protect your personal space
Practical tools you can use anytime and anywhere to reboot your energy
How to let go of perfectionism that keeps you stuck and weighed down
How to gracefully deal with what other people think of you so that it doesn't affect your energy or performance
To stop comparing yourself to others and what you think you are "supposed to" do or be
How to keep other people's emotions out of your system
Leverage your intuition as a strength and valuable tool that makes you unique and enables you to achieve remarkable results
Foundational Principle 3: Manage your Boundaries
Setting boundaries is difficult for most people. We often find it hard to say 'no' and don't want to disappoint others, and we are often not aware of what we really need to be balanced and stay healthy.
By the end of this module you will:
Master different ways to

set healthy boundaries

Understand how to protect your energy and boundaries and what you can do to course-correct
Know exactly why –and more importantly – how you need to put yourself first
Be clear on where your responsibility begins and ends
Take back control over your own time, energy and life
Feel balanced and more in the flow
These truly are foundational pieces! You cannot safely excel in your career if you don't have a grip on managing your energy, yourself and your boundaries. Even if you are currently using some form of energy management, I will take you a step further. As you grow as a person and in your career or business you need to uplevel your tools and techniques as well. So you are not only taking good care of yourself but in turn have more to give to your clients, colleagues, family and friends. Because life is meant to be enjoyed.
If you are like me then chances are you are being too serious. About life, about work and about your responsibilities. Let's lighten your load and your mood. Join me for six transformative weeks!
This is what you'll receive in this online program:
Three 60-minute content rich training calls in which I will teach you how to manage your energy, yourself and your boundaries (value €1350,-)
Three 60 minute coaching Q&A calls where I answer questions about this program, and I will provide you with valuable tips and insights that help you go much deeper into the teachings (value €1350,-)
Audio-recordings for each call, so you can re-listen as often as you like and have permanent access to the program (priceless!)
Weekly checklists and action-sheets so you can implement the tools and incorporate the exercises into your day-to-day life (priceless!)
Access to the private online forum where you can continue the conversation, receive extra support and have a 24/7 place to go whenever you need something (priceless!)
This is how it works:
You will get access to the program as soon as you register. During the coming 6 weeks you will receive 1 audio-recording of a Training Call or Q&A call per week. Each week you will also receive action steps to implement your insights and utilize the powerful tools. During the entire program you have full access to the private online forum where you can ask questions and share your experience.

Your investment for this program:
The full tuition for this program is €497,- (total value €2700,00+) (Price in USD approx. 548 USD). Prices are excl. VAT.

Simply click on the desired button below to register and get immediate access!
These are the results you can expect:
More energy and peace of mind

Increased focus and concentration, which increases your productivity
Feel more centered and balanced
Know how to keep out other people's emotions and energies
Take back control over your time and energy
Interact with a group without being drained or overwhelmed

It is easier to be in the moment
Get in touch with your feelings and listen to your intuition with more ease

Up-leveled self-care

Being able to enjoy your weekend instead of having to catch up

More joy and flow

Be less bothered by what other people think of you, which is especially important as you grow and become more visible.
Letting go of perfectionism and your tendency to control things

Being able to say no without feeling guilty
Know where your responsibility begins and ends so you can focus your time and energy on the 'right' actions
Lighten your load and invite more fun and ease into your life!
A lot of participants report feeling more confident and they often sleep better and physically feel better as well.
You will learn everything you need to know to take good care of yourself and have more energy.
These are the exact same techniques that I use daily for myself and that I teach my high end private clients. And I will now share all this with you!
Thanks to this program I am more conscious of my energy level.

"I have also gotten a lot of confidence from the exercises, activations and calls. I have more self-knowledge, balance and focus. I now know how I can protect my energy and have really incorporated the exercises in my daily routine. That gives a lot of grip and feels great. The way Iris brings it gives me a lot of confidence, because of the energy behind the information and the way she talks about it. I really appreciate the diligence, integrity, sincerity and professionalism with which you do this Iris! If you are prepared to change from the inside out and want to feel better, in order to better support and connect with your clients then I can highly recommend this program for you."
Paul Vrenken
, Veldhoven, The Netherlands
, www.triskal.org
I used to do things on willpower instead of on energy.

"I feel a clear difference thanks to this program. Before I had to take a nap in the afternoon to recharge. I can now feel how tired I used to be. Now I can go all day and even do the evening program here at the riding school. I used to do things on willpower instead of on energy. I really took some great steps. Many things are shifting, I learned I don't always have to take care of others at my own expense. I have more room in my shoulders and neck, the tightness is gone. Thanks to the exercises that Iris teaches us to do daily I feel a lot better! It has also provided me with a lot of insight in how tuned in I am to other people and how that drains me. Today when I got up my energy level was at 50% for the first time! I can't remember when I've last had that. I can highly recommend this program!"
Antoinette van de Koedijk
, IJsselstein, The Netherlands
, www.devolte.nl
My energy level went from 20-30% to 70-80%!

"The online program has brought me a lot: by doing the exercises daily I feel less tired. I feel stronger and it's easier to have faith and trust! It has also given me more self-confidence! I now dare to take certain steps and become more visible. This program also made me realize how often and easily I take over other people's energies. I am now consciously aware of this so I can place things better. I now know how important it is to protect myself and do so often with the exercises I learned here. I'm so grateful for that! It's easier to stay focused on myself and I feel much more centered. I especially have a lot more energy. I see a clear difference in how I feel now thanks to this program and that makes me very happy!"
Ann-Charlotte Zwetsloot
, Zoetermeer, The Netherlands
, www.praktijk-harmonie.nl
This program is hosted by Iris van Ooyen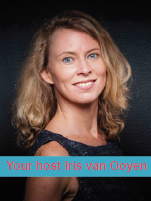 Iris is an expert at zeroing in on what is standing in your way to be your best self. Iris facilitates powerful transformations within her clients with her energetic activations, intuitive insights and extensive experience.
She helps you to be balanced and stand in your power, having enough energy left for your personal life. Thanks to her years of experience in working in the corporate world, facilitating workshops & brainstorm sessions and her intuitive abilities, she is able to cut to the chase and provide you with a wealth of information and laser focused insights in a very short period of time.
She sees quickly which steps are needed to create certain changes and provides you with the necessary insights and practical action steps that you can apply right away so you can grow and be your best self. In the past 13 years Iris has already supported many clients to take the next step in their life & business or career.
Wondering how joining this program might change your life?
This is what Shelly said one year after she took the program:
"When I looked back at where I was a year ago I was amazed at the progress I made. One of the bigger things when I look back is the boundary piece, like how it has really set me up to be able to be more in my zone of genius. I just have more energy to be where my brilliance is because of the tools that you gave me.
And I'm able to have more energy on my days off, and that's crucial because before when I was having a day off I would take a nap. I noticed that I am able to sleep a lot deeper. I used to wake up a lot and now I am able to go into that deep sleep so when I wake up I feel rejuvenated. It's huge! And I am no longer doing all these little things that used to suck away my energy. It is also easier for me to say no and be ok with it.
And one of the biggest things is realizing that I don't have to help everyone I come in contact with and if I don't help them that's ok! That's probably one of the biggest tools."
What would you say to someone who is considering joining the program?
"It is well worth the investment, because you can listen to it over and over again and I love the way you do it over a period of time so it is easy to implement. It's like a step by step process. You did it in a way that was doable. I immediately trust you and trust your soul. That makes the work easier to do!"
Do you want to take back control and have more energy? Register now!
Legal Disclaimer: Every effort has been made to accurately represent this program and its potential. Each individual's success depends on his or her background, dedication, motivation and willingness to participate. The more you put into this program in terms of listening to all the calls, doing all the exercises and taking time to explore and practice, the more you'll get out of it.