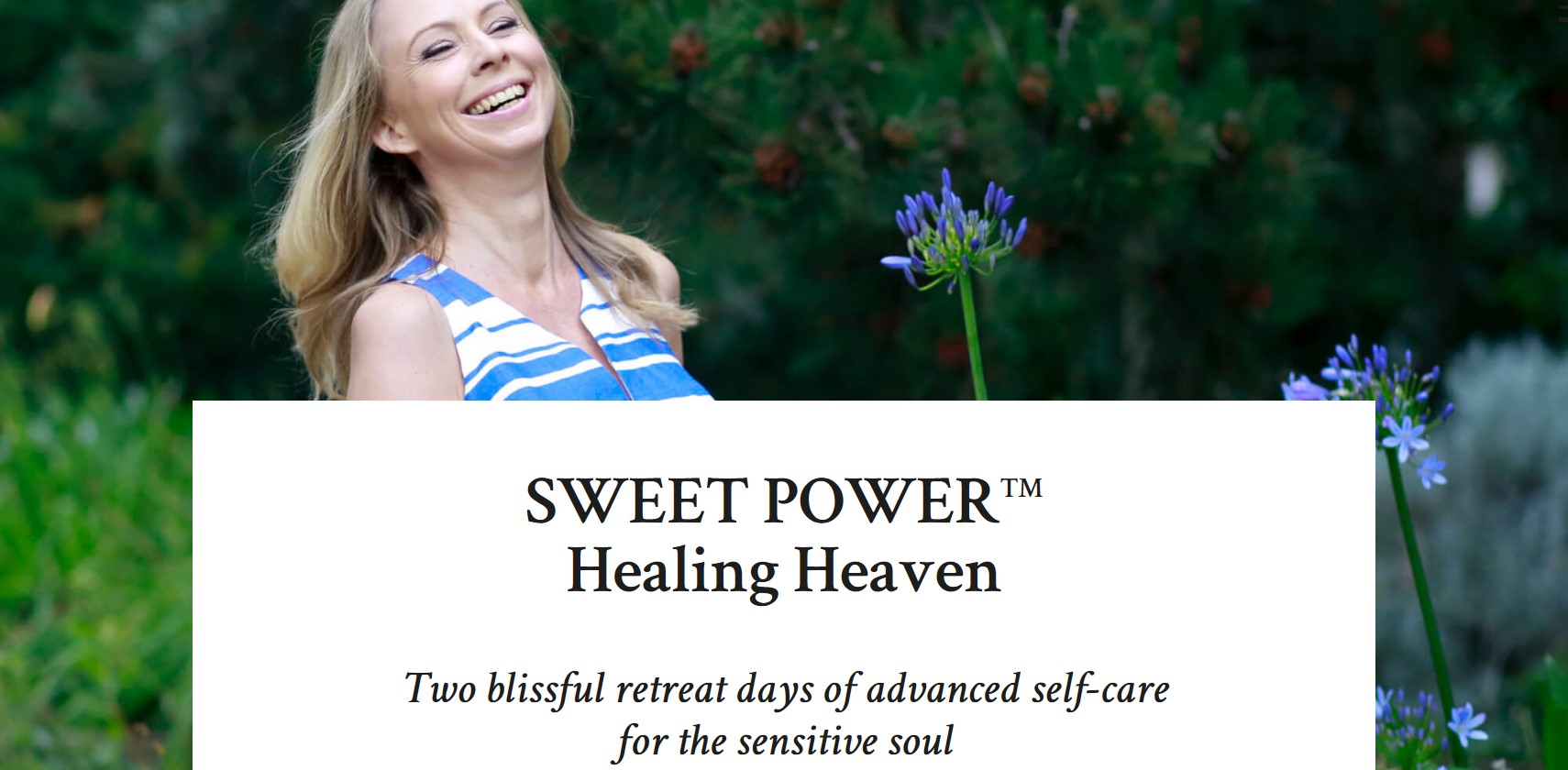 You get it.
You understand the importance of self-care. You've been educating yourself on boundary setting. You've been working on managing your energy. But it's not always that easy in practice—especially when real-world tests arrive.
And that's okay: at any given time, all of us are a work in progress.
And just like anything else, harnessing your SWEET POWER™ is something that you will continue to get better at as you go. But in the meantime, maybe you need some extra space to make these changes. Maybe you need some extra support and practice, first. And maybe you need a safe and loving place where you can hone and uplevel your skills among friends. (And not accidentally hit and miss when setting new boundaries ;)

Introducing:
SWEET POWER™ Healing Heaven
Two blissful retreat days of advanced self-care for the sensitive soul
Two days.
One gorgeous retreat destination.
8 people.
And one mission: tap into your SWEET POWER™ alongside others who are eager to integrate the principles in a practical, powerhouse kind of setting.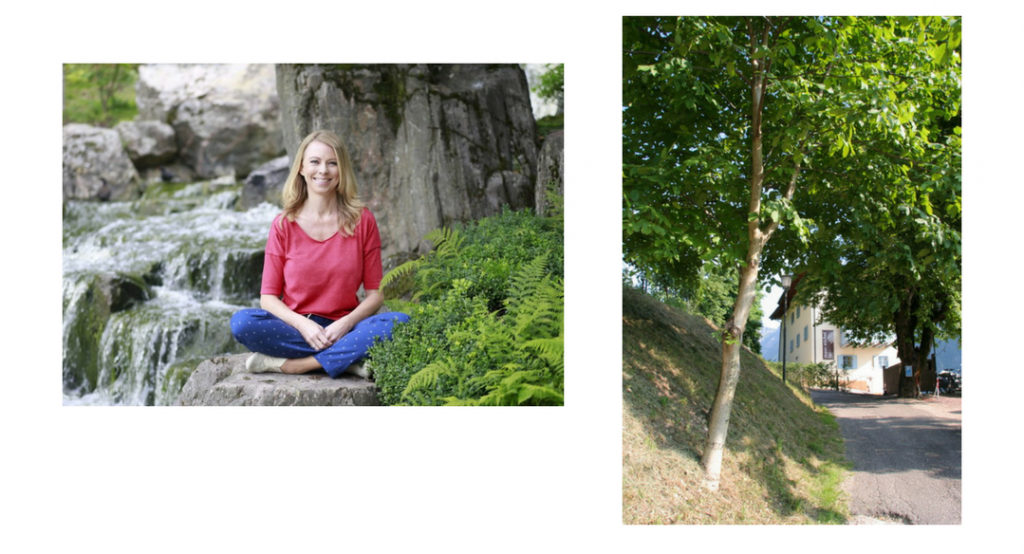 At this SWEET POWER™ Healing Heaven retreat, you will:
Have a safe space to practice integrating the upleveled skills and 
strategies of tapping into your SWEET POWER™ and advanced Energy Management
Learn to match your business and personal growth with higher-level 
self-care tools
Share practical tips, strategies and stories with other sensitive souls who struggle with the same things you do
Gain additional clarity on what's holding you back from personal and professional growth, and how you can bust through those blocks
Understand and practice anchoring your energy so you don't feel disoriented, spaced out, or in the clouds
Learn to stretch yourself to create a new and enlarged comfort zone so new things feel less daunting to you
Make space to invite new growth and frontiers in your personal and business life
Receive an energetic reset activation uniquely tailored to your needs, designed to help you let go of energies and emotions that no longer serve you
Learn how to integrate change on a cellular and energetic level (because we often forget to make time for this and integrating change is so crucial)


Reserve Your Bedroom Now
Due to the intimate nature of this event, there is limited space available, so all participants are urged to reserve their room as soon as possible. For that reason, I'm offering an early-bird initiative right now through March 15th, for only €1500.
Pay in three installments of €533 or pay in full €1500 (and save €400!). For anyone within EU prices are excluding VAT.

| | | |
| --- | --- | --- |
| | "This retreat was a breath of fresh air. I truly experienced it as two spa days for the soul. The location was magnificent with such an attractive and safe atmosphere. I loved the wonderful group we had and Iris's warm and sensitive guidance. Thanks to her support, the exercises and safe energy I was able to release an old process that had been holding me back enormously. There has been a huge shift and I notice the difference in my day-to-day life. Something has fundamentally changed in the way I respond and speak to others. We really need these retreats from time to time to fully come back to ourselves and listen to the calling of our soul. Thank you Iris!" | |
Kirsten van Loon
, Breda, The Netherlands
, www.kabaalmarketing.nl
Here are some of the things our participants typically struggle with:
An understanding of what they need to do to use their sensitivities for the power of good—but have trouble actually practicing this "in real life"
Aren't sure how to integrate these new energies into their existing lifestyle—or release old energies and emotions
Accepting that they must take care of themselves first in order to give their best to the people and things they care about
Dealing with an identity conflict— Who am I when I dare to be vulnerable and be seen for my best, most successful self?
Unsure how to be firm…without flying off the handle with resentment (WHY AREN'T THEY ACCEPTING MY "NO?!")
Getting push back from friends and family anytime they begin to assert their needs, boundaries or give to themselves
Feeling as if they almost need a new life manual for themselves
Struggling with STILL feeling overstretched, with a schedule that's 
too full
Feeling guilty about not being better at this already (don't worry—it will come, and that's precisely why we PRACTICE!)
For all of those reasons, and more,
we lovingly invite you to come treat yourself to the ultimate in self-care.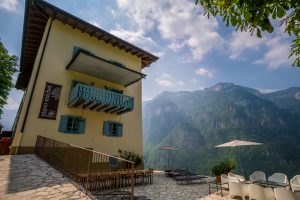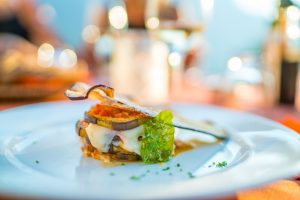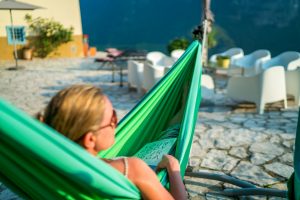 Think: Warm gentle breezes. Cool, soft linens. Quiet headspace without any pressure to constantly do. A place where you can focus 100% on your own self-care—without having to answer to anyone—where you can come together with other like-minded souls who want to practice stepping into their SWEET POWER™ in a safe, supportive space.
Here, you'll implement everything you've read, you've learned, you've tried to do on your own, but in the company of Iris van Ooyen herself, creator of the SWEET POWER™ approach, who will be working with you and the group to help you use your gifts to get whatever it is that you want. If you're getting stronger, but want to continue refining your own strategies, skills and sensitivity-as-a-gift, this is a beautiful opportunity just for you.
"Thank you for a very powerful event Iris! It was great to be in the space you created. Being with the other participants was very special and empowering and I loved how everyone shared. It was a sacred place to trust your inner truth to be heard. The live channelings gave me the powerful insight that my needs and my voice are just as important and that I need to pay attention to my feelings about it. And that I need to communicate those when I don't feel safe. How that impacted my business is that I hired more support and I am now journaling daily on what I need and am paying more attention to what created the anxiety.

Healing Heaven cleared up a lot of space for my business! What I really noticed is someone can tell you that you need to network for example, but then you don't do it because you have some resistance to it. That resistance and what is behind that is the stuff we need to clear out and that's what this event helps with! It is the main thing that helped me with some major shifts! The way Iris sets everything up helped us see what our blocks were. I would say this event could be called 'bust through your blocks'! And one of the great things of Healing Heaven is that it allowed me to take a trip to Europe (as a biz expense ;-). The location is beautiful and very nourishing as was the food.

Iris is a powerful and loving host and leader. The event helped me realize some very important pieces! It really was a shift on a cellular level and those insights have had a huge impact on myself and the success of my business. I received some crucial pieces I needed for my business! I can highly recommend this powerful event!"
Shelly Byrne
, Covington, KY, USA
, www.climbtreaswithearthjoy.com
Healing Heaven
Typical day in the life
Day One
Focus: Letting go of what no longer serves you
We'll begin by setting the space (physically, mentally, emotionally and energetically) for powerful shifts
Then, we'll move into a self-sabotage assessment, where we'll spend our morning session getting clear on how you can overcome the blocks that have held back your growth and where you need to uplevel your self-care
Here, we'll also engage in a live channel session with Iris van Ooyen, where you can ask your personal or business questions and she will tune in for you to provide you with intuitive insights around whatever it is that you're struggling with
Finally, we'll wrap day one with an afternoon group mentoring session during which we'll focus on breaking through what's holding you back and what keeps you playing small
Day Two
Focus: Integrating the energetic changes
We'll begin once again by clearing the energy and setting powerful intentions
Next, we'll take time to analyze and integrate the changes that happened in your life and business in the past year, ensuring you are ready (both physically and energetically) for your next step
During our morning session, we'll uncover your personal key to allowing yourself to experience flow and have peace of mind—instead of forcing things to happen and trying to control everything 24/7
During our afternoon session, we'll be developing clear next steps and practical how-tos to continue your healing once you're back home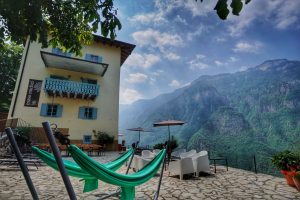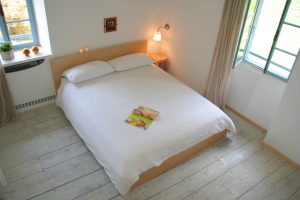 Ultimately, the SWEET POWER™ Healing Heaven retreat will teach you how to hold onto more of your energy, and feel recharged and rejuvenated—especially if you know what you "should" be doing, but are just having trouble getting into the right head space.
You'll also raise your vibration to all new levels, and have full clarity on your intentions and the next steps for yourself and your business. Through energetic up-leveling, you'll feel like your system will be green-light ready and rewired for the future. You'll come home feeling lighter, and having released weight off your shoulders. You'll feel more confident and know that you have what it takes to do what you came here to do. And most importantly, you'll have made room energetically for the things that really matter.
Healing Heaven Upcoming Retreat Schedule
April 26-29, 2018 Ronchi de Ala, Italy
Two blissful retreat days of advanced self-care for the sensitive soul.
This retreat happily includes:
Two days and three nights at the luscious Maso Michei estate in Ronchi de Ala, Italy
Private room at the estate with a breathtaking view of grape fields and the Lessini mountains
Two full days of morning and afternoon sessions and evenings off
Breakfast buffet and a vegetarian three-course lunch and dinner prepared by our talented personal chef

All drinks (whether you choose herbal tea or wine from the estate) & lovely snacks
Access to on-site sauna, and transfer to estate from airport/train station
How does it work?
You'll arrive Thursday afternoon or evening and enjoy a group meal. Friday and Saturday we dive deep into content, insights and healing. Sunday you are free to spend as you please. You can sleep in, enjoy a walk to the waterfall or relax on the terrace with a book. You can even use the on-site yoga studio (with breathtaking view) for your favorite yoga poses. Sunday lunch will be the last group meal. Of course we have the entire estate to ourselves!

| | | |
| --- | --- | --- |
| | "I have enjoyed the wonderful weekend Healing Heaven. I felt I deserved it. It was not just a 'spa for the soul' but for me entirely. Being away from the busy day-to-day life and relax here. Energetically a lot has shifted. Not everything is immediately visible and I know this will continue to have effects in the coming days and weeks. It has brought me a lot. It was very special to be together with a group and really stand for what you do and share that. It was unique and beautiful and I thoroughly enjoyed it. I would highly recommend it, it really is a gift for yourself. And a spa for the soul, just as you go to the sauna, this is what you deserve if you want to continue growing on your path. I loved it!" | |
Ingrid Wester
, Rotterdam, The Netherlands
, www.praktijkjofiele.nl
About retreat leader
Iris van Ooyen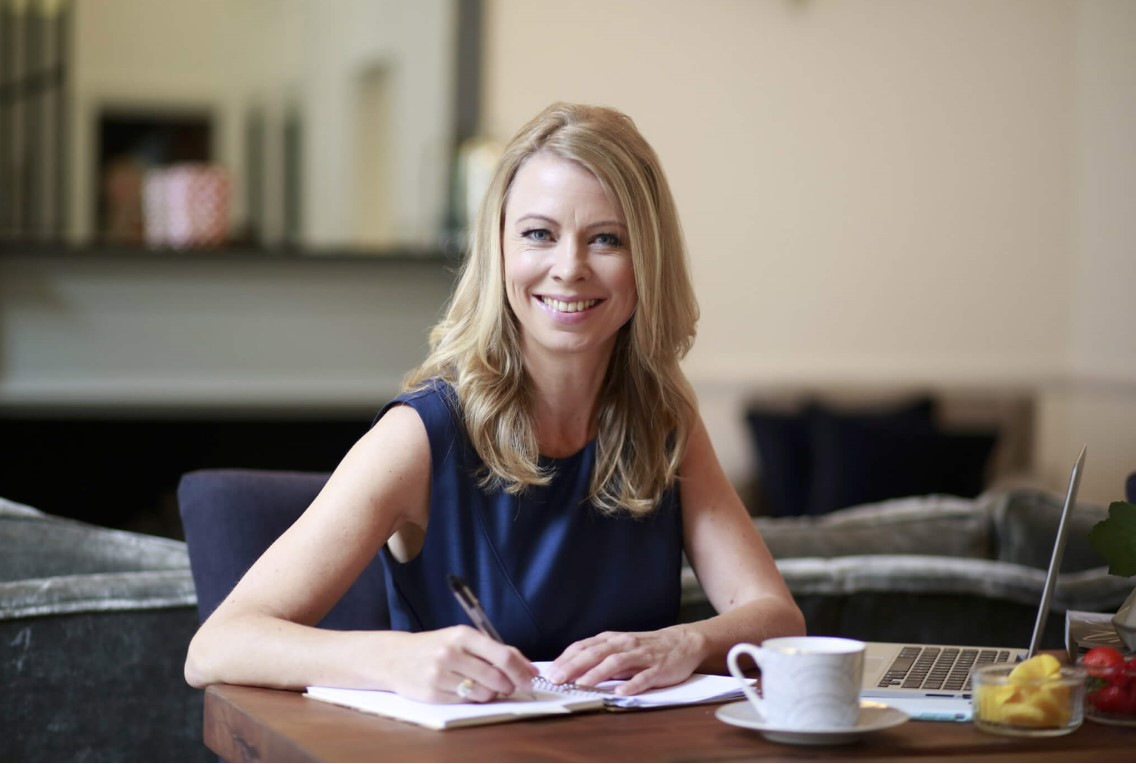 Iris van Ooyen is the creator of the SWEET POWER™ approach to personal and career development, growth, and self-care designed for those who have big things to do in this world, but who often feel drained by the demand that showing up big requires.
Through her research, she's identified four distinctive stages that sensitive souls experience as a part of the growth process, and the underbelly of her work lies in helping that particular audience determine where they're at, on the growth curve, in order to help them figure out the right steps to move forward—and kick a**.
An MBA with a former corporate background in marketing, Van Ooyen combines her extensive business experience with her renowned razor-sharp intuitive insights in order to apply much of her work to those struggling in their career, business, or high performance as a whole. Her clients—including Olympic athletes and entrepreneurs to business managers and teams—praise her for her ability to quickly zero in on what is not working and facilitate energetic transformations that carry over into all aspects of life and work.
Frequently Asked Questions
What are the closest airports?
I recommend flying into either Verona (VRN) or Bergamo (BGY). Our shuttle will pick you up from these airports and deliver you safely at our retreat where you'll be welcome with a lovely meal! Other options are Milan Malpensa (MXP) or Venice (VCE). From there you can take a train and we will pick you up at the train station.
What kind of people usually come to this retreat?
My clients usually want to do things that make this world a better place—even if it is one person or one project at a time. They want to do meaningful work.
They want to find balance between working, relaxing, time to play and be with family.
They want to be grounded and centered and are attracted to true universal wisdom and a high vibration.
They take responsibility for their actions and ask for insights and advice from others so they can grow and learn and avoid making the same mistake.
Immersing themselves in nature is a great way to recharge, get inspired and relax. Whether it is the forest, mountains, beach or backyard—nature helps them breathe deeper and let go.
They know that everyone amasses scars in life and it is about how to embed them into who you are without letting the pain holding you back or dragging you down. They know that when fully integrated the pain they lived through becomes an asset and makes them stronger.
My clients wants to connect from the heart. They are not interested in shallow connections and long to connect deeply and fully with others. They rather stay home than have a surface conversation.
I'm not sure I can step away from my work to go to this retreat.
Self-care is the key to everything. One of the main focus points of this retreat is letting go of what no longer serves you, and integrating change. I know from experience that this helps free up  lot of energy and space. Coming to this retreat might be the best investment you make this year in your productivity and well-being.
Do you still have questions? Please email us at info[at]2brighteyes[dot]com
If you've read this far than it's safe to say this retreat speaks to you. I fully believe that the right people always show up. And the Universe has a great way of ensuring the perfect group of people are placed together. That also means sometimes you have to make an effort—it's not always convenient to follow your heart. But if Healing Heaven resonates for you I hope you follow that guidance and will join me in Italy! I can't wait!